This app has been blocked for your protection
Question
I am trying to open an older version of QuickBooks/Reckon Accounts on my Windows 10 PC but I am being met with the warning message "This app has been blocked for your protection". See below a screenshot: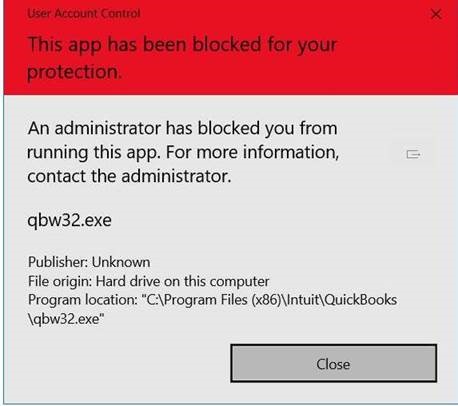 How can I fix his?
Cause
This message is triggered by your Windows Operating System and not your QuickBooks/Reckon Software. You will need to make changes to your Windows security settings in order for it to give your software the correct privileges to run.
Solution
Solution 1:
Right-click on the application > Run as Administrator
If this does not work, please try solution 2.
Solution 2:
Right-click on the application > Properties > Copy the contents of what is inside the "Target" field (including quotation marks)
Go to your Windows start menu > search Command Prompt > right-click > Run as administrator
Paste the "Target" contents (Ctrl + V) > press enter
It should now allow you to run the program as normal
---
---